How to Choose the Right Backsplash for Your Kitchen
Mar 13, 2021
Blog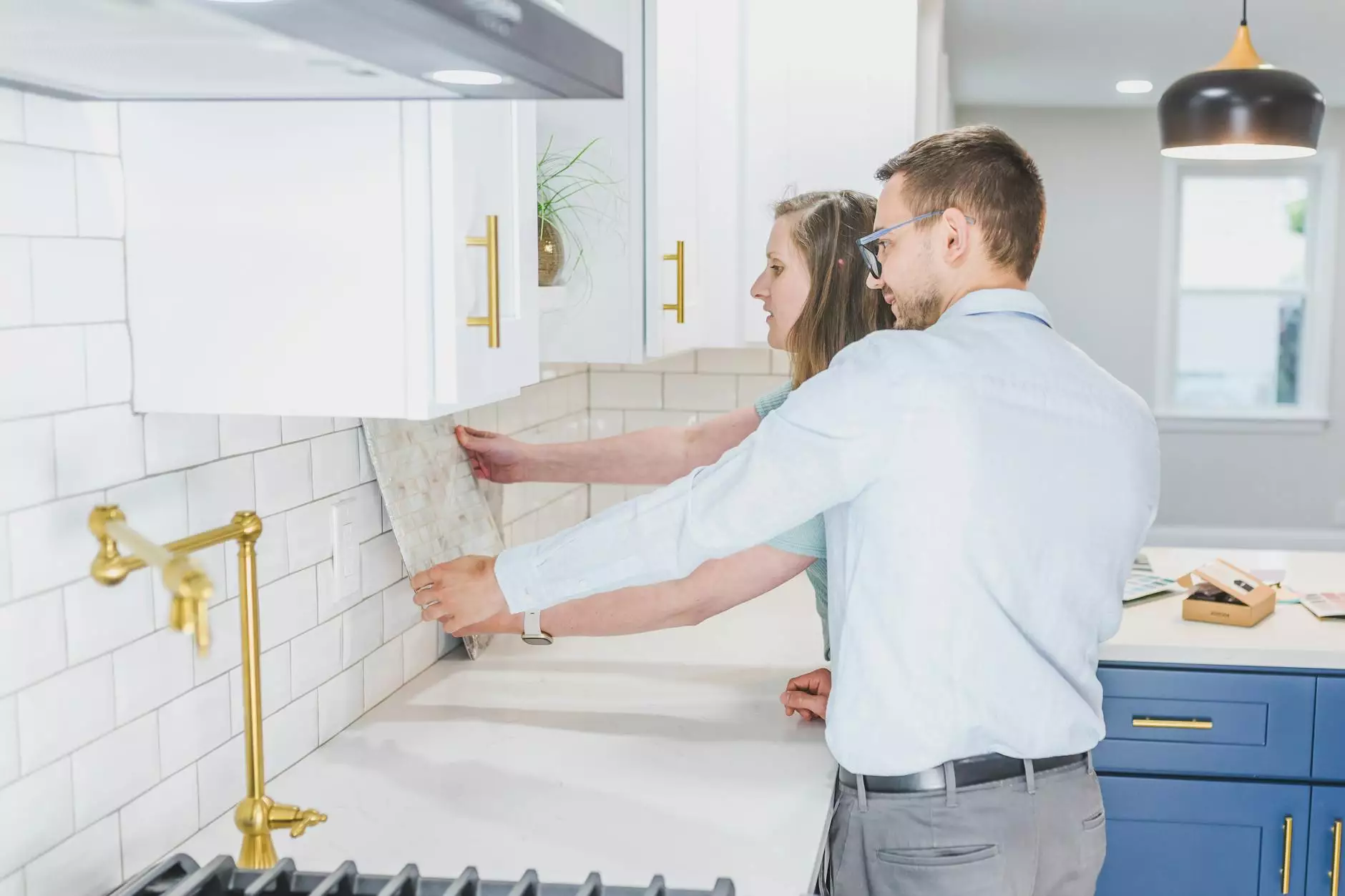 Introduction
Welcome to Lightning Water Damage's comprehensive guide on choosing the perfect backsplash for your kitchen! Your kitchen is the heart of your home, and a beautiful backsplash can enhance its aesthetics, protect your walls from moisture and stains, and add a touch of personality to your space. In this guide, we will walk you through the essential factors to consider when selecting a backsplash and provide you with valuable tips and ideas for creating a stunning kitchen design.
The Importance of a Backsplash
A backsplash is not only a functional element but also a design feature that can transform the look and feel of your kitchen. It serves the important purpose of protecting your walls from water damage, oil splatters, and food stains, making it easier to clean and maintain your kitchen. Additionally, it provides an opportunity to showcase your personal style and tie together the overall design of your space.
Consider Your Kitchen Style
Before diving into the world of backsplash materials and designs, it's important to consider the style of your kitchen. Are you going for a modern, minimalist look or a more traditional and rustic feel? Understanding your kitchen's style will help you narrow down the options and ensure that your chosen backsplash complements the existing elements in your kitchen.
Choosing the Right Material
When it comes to backsplash materials, the options are endless. Each material has its own unique characteristics, advantages, and maintenance requirements. Here are some popular choices:
Ceramic Tile
Ceramic tile backsplashes are versatile, durable, and come in a wide range of colors, patterns, and sizes. They are resistant to heat, stains, and water, making them suitable for kitchen use. Ceramic tiles are relatively easy to install and maintain, making them a popular choice among homeowners.
Glass
Glass backsplashes are sleek, modern, and reflect light, giving your kitchen a spacious and airy feel. They are available in various shades and can be customized with patterns or textures. Glass is non-porous, making it resistant to stains and easy to clean. However, it may require more maintenance to keep it looking sparkling and free from smudges.
Natural Stone
Natural stone backsplashes, such as marble, granite, or travertine, add a touch of elegance and sophistication to any kitchen. Each stone has its own unique veining and color variations, creating a one-of-a-kind look. However, natural stone requires regular sealing to protect against stains and may be more susceptible to scratching or chipping compared to other materials.
Porcelain
Porcelain backsplashes are known for their durability and low maintenance. They are highly resistant to scratches, stains, and heat, making them suitable for high-traffic kitchens. Porcelain tiles come in a variety of colors, finishes, and sizes, allowing you to achieve the desired style for your kitchen.
Consider the Color Palette
Choosing the right color for your backsplash is crucial in creating a cohesive and visually pleasing kitchen design. Take into consideration the color of your kitchen cabinets, countertops, and flooring. You can opt for a complementary color to create contrast or choose a backsplash that blends seamlessly with the existing color palette for a more harmonious look.
Deciding on a Pattern or Layout
If you're looking to add visual interest to your kitchen, consider incorporating patterns or creating a unique layout with your backsplash. Subway tiles, herringbone patterns, or mosaic designs are popular choices that can elevate the overall look of your kitchen.
Choosing the Right Size
The size of your backsplash tiles can also play a significant role in the overall aesthetic of your kitchen. Larger tiles can make a small kitchen appear more spacious, while smaller tiles can add texture and visual appeal. Consider the scale of your kitchen and the desired effect you want to achieve.
Professional Installation and Maintenance
Once you have chosen the perfect backsplash for your kitchen, it's important to hire a professional for the installation to ensure proper alignment and a flawless finish. A well-installed backsplash will not only enhance the beauty of your kitchen but also increase the value of your home. Additionally, make sure to follow the manufacturer's instructions for maintenance to keep your backsplash looking pristine for years to come.
In Conclusion
Choosing the right backsplash for your kitchen is an exciting opportunity to showcase your personal style and enhance the overall aesthetics of your space. Consider the style of your kitchen, select the appropriate material, choose a color that complements your existing palette, and experiment with patterns and layouts to create a kitchen that truly reflects your taste and personality. With Lightning Water Damage's comprehensive guide, you now have all the tools to make an informed decision and create a stunning kitchen design that will leave everyone impressed.
At Lightning Water Damage, We're Here to Help
As experts in Business and Consumer Services - Cleaning, Lightning Water Damage offers a range of services to help you maintain a clean and beautiful home. Whether you need assistance in water damage restoration, mold remediation, or general cleaning services, our team of professionals is dedicated to providing exceptional results. Contact Lightning Water Damage today and let us assist you in creating the kitchen of your dreams.