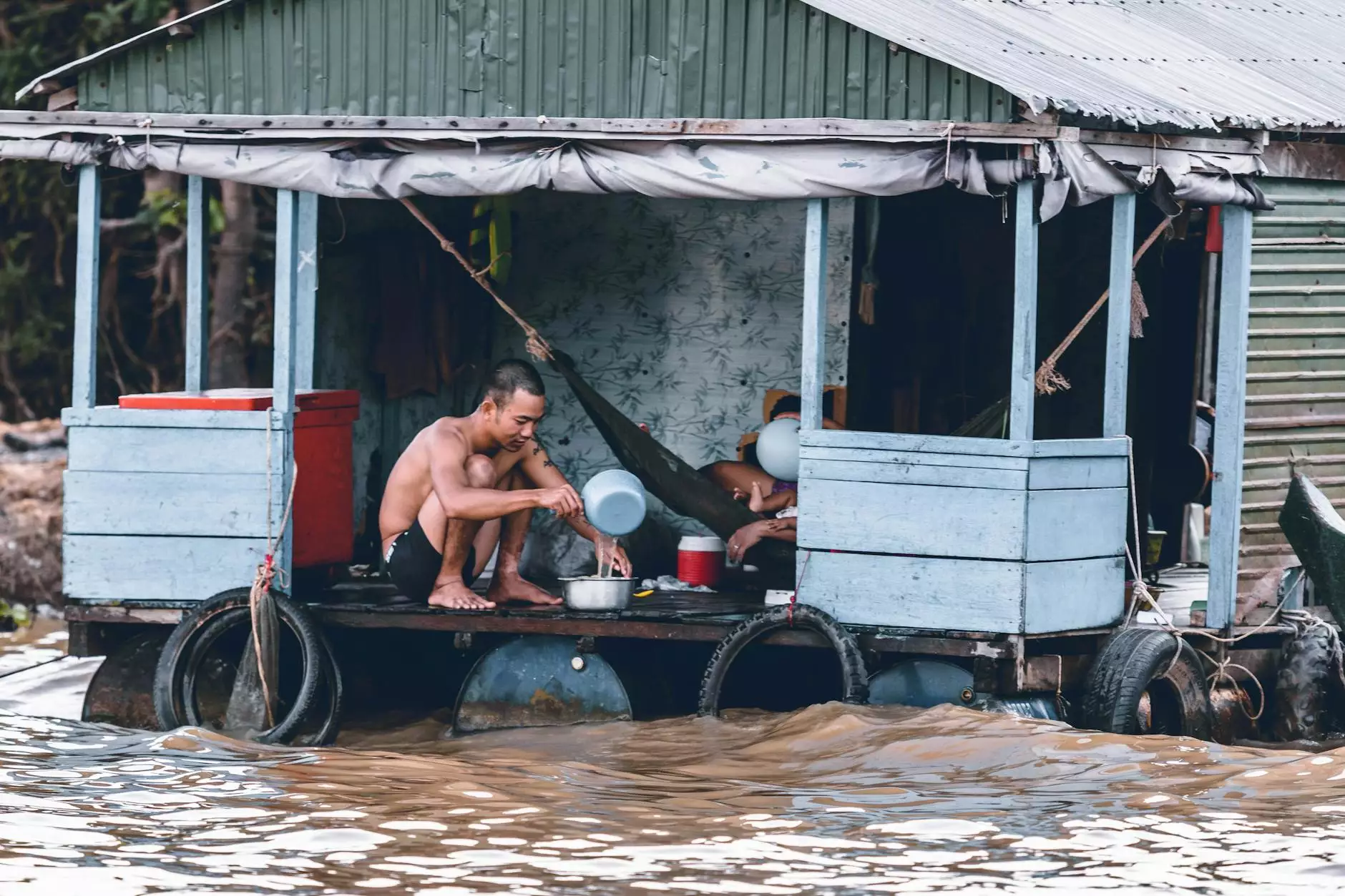 Introduction
Welcome to Lightning Water Damage, your trusted source for comprehensive guidance on dealing with home flooding caused by hurricanes. In this detailed guide, we will provide you with step-by-step instructions for managing the aftermath of a hurricane and helping you restore your home to its pre-flood condition. Our expert tips and practical advice will ensure that you are well-prepared to handle this challenging situation.
Assess the Situation
When your home is flooded by a hurricane, it is crucial to first assess the extent of the damage. Safety should be your top priority, so ensure that everyone in your household is out of harm's way. Once you have confirmed that everyone is safe, take the following steps:
1. Turn off Electricity
To prevent electrical hazards, immediately switch off the main power supply to your home. If water has already entered your electrical panel, do not attempt to turn off the power yourself. Instead, contact a professional electrician to handle the situation safely.
2. Stop the Water Source
If flooding is still occurring, identify and stop the source of the water. This may involve shutting off the main water valve or sealing any visible leaks. By taking swift action, you can minimize the amount of incoming water and reduce further damage to your property.
3. Document the Damage
Before starting the cleanup process, document the extent of the damage by taking photographs or videos. This evidence will be valuable for insurance purposes and can help facilitate the claims process.
Contact Your Insurance Company
Once you have assessed the situation and ensured the safety of your family, it is important to contact your insurance company as soon as possible. Provide them with the necessary information about the flood damage and follow their instructions for filing a claim. Be prepared to provide them with the documentation you gathered earlier.
Begin the Cleanup Process
Now that you have taken the necessary initial steps, it's time to start the cleanup and restoration process. Follow these guidelines to ensure an effective and efficient recovery:
1. Remove Standing Water
Use buckets, sump pumps, or wet-dry vacuums to remove as much standing water as possible. Be cautious of electrical hazards and wear appropriate protective gear, such as rubber boots and gloves, during this process.
2. Dry and Ventilate
Facilitate the drying process by opening windows, using fans and dehumidifiers, and running the HVAC system if it is safe to do so. Drying out the affected areas is crucial to prevent the growth of mold and mildew.
3. Clean and Disinfect
Thoroughly clean and disinfect all surfaces, including walls, floors, and furniture, using appropriate cleaning agents. Pay close attention to preventing mold growth by using mold inhibitors and following proper disinfection protocols.
4. Remove Damaged Materials
Remove and dispose of any damaged materials, such as carpets, furniture, and drywall, that cannot be effectively cleaned or restored. Prompt removal of these items will prevent further contamination and help in the restoration process.
Seek Professional Water Damage Restoration
While you can manage certain aspects of the cleanup process on your own, it is highly recommended to seek the assistance of professional water damage restoration experts. Lightning Water Damage specializes in providing top-notch services for restoring homes affected by flooding. Our team of experienced professionals has the expertise and equipment to efficiently handle the most challenging situations.
Protect Against Future Floods
Once your home is restored and all necessary repairs have been completed, take proactive measures to protect against future floods. Consider the following steps:
1. Install Flood-Resistant Materials
Replace vulnerable materials with flood-resistant alternatives, such as installing water-resistant flooring and wall coverings. This will help minimize damage in the event of future flooding.
2. Raise Electrical Systems
Elevate electrical systems, such as outlets and fuse boxes, above flood levels to prevent water damage. Consult a professional electrician for assistance in making these modifications.
3. Improve Drainage Systems
Ensure your property has adequate drainage systems, including gutters and downspouts, to redirect water away from your home. Regularly clean and maintain these systems to ensure their effectiveness.
Conclusion
Dealing with a home flooded by a hurricane can be overwhelming, but with the right information and resources, you can effectively navigate the recovery process. Lightning Water Damage is committed to providing you with the necessary guidance, expertise, and professional assistance to ensure the best possible outcome.
Remember, the key to successful recovery is taking prompt action, prioritizing safety, and engaging professional services when needed. By following this comprehensive guide, you are well-equipped to handle the challenges that arise from a hurricane-related home flood.